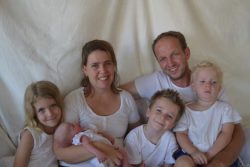 ​Carl was born in the small town, Reijssen in eastern Holland, the youngest of 11 children. He was educated in the same areas and while in high school worked as a fireman at the local emergency services. Following his compassionate heart he joined the Mercy Ships ministry vessel in Liberia for a two year outreach - his assignment was on the Community Development team. He finished leading the team that served the communities by drilling water wells or putting roofs on the schools or renovating dilapidated orphanage buildings.
Ilne was born and educated in South Africa and served as the Triage Nurse on the African Mercy, the hospital ship that Carl was also on.
They were married in 2007 and since then have built/managed an orphanage in Liberia, served in a house of safety for infants born to drug addicted mothers/abusive parents and finally accepted the calling to lead the Agricultural Training program in Mazabuka, Zambia.
They have four children, Rashell, Timothy, Simon and Isabel.
FOLLOW THE PAALMAN BLOG