My name is RAMBABU KAMPELLI (Prabhukiran). I was born into a HINDU family 1977. My parents were idol worshipers calling me Rambabu from my birth after the Hindu god Rama, the seventh avatar (incarnation) of the god Vishnu. They worshiped idols, and followed the Hindu customs having faith in many gods, worshiping many idols and living sinful lives dominated by super natural spirits. It is fact that because of this they are economically backward, being very poor and downtrodden, depressed, uneducated and uncivilized. They were poor agricultural laborers.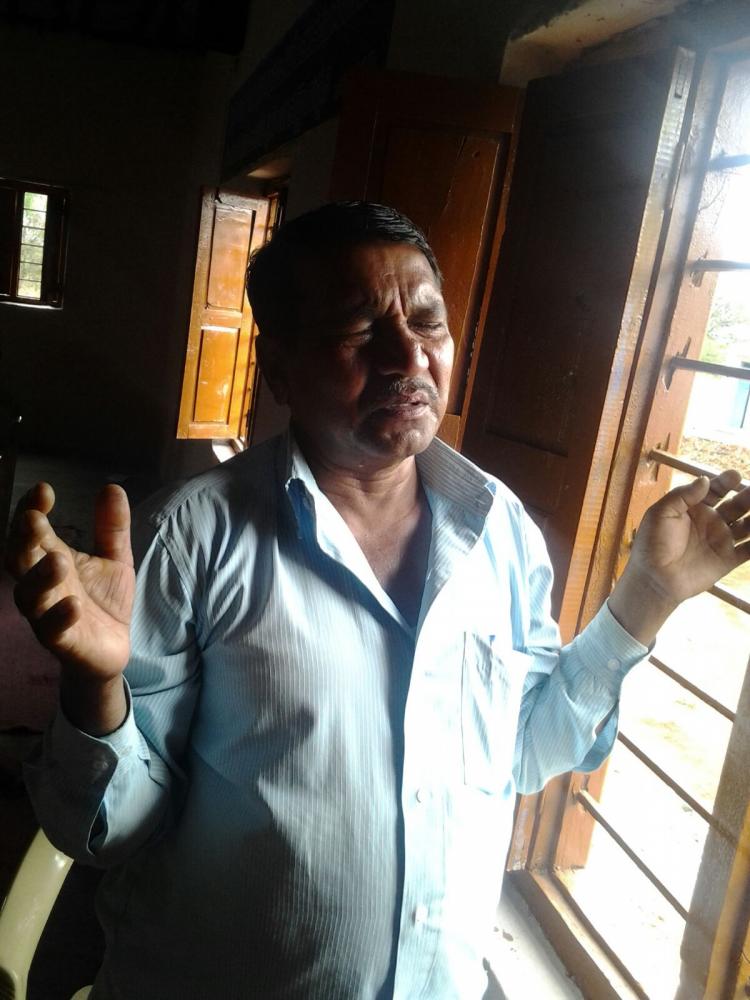 Because I was talented in singing the Catholic school gave me free tuition. When I was in the 5th grade the Nuns taught me a devotional song to present to the school. The song went like this: "Jesus has come in search of perishing souls and to give eternal life to the dead." Everyone liked my singing and from that time on I desired to sings songs about Jesus. I remembered that song the day I was on the high voltage wire when I was in the 7th grade.
That was when there was an electrical power situation in our village. Some of the power lines were hanging very low to the ground. I ran across one of these and became entangled in it and no one knew where I was or the trouble I was in. I tried to pray to "Ram" but I could not speak. It was then that I remembered the song the nuns had taught me. For more than 3 hours I was lying on that high voltage wire unconscience before the transformer was turned off. Most people assumed that I was dead. The Village Doctor and the police declared me dead. When they were taking me for burial I sat up! They thought I was a demon spirit! So in keeping with Hindu law they killed a chicken and buried it in my grave!
That very day my father remembered being told that Jesus was the one and only true God who had risen from the dead, yet it was another 10 years before he believed in Jesus. Even myself! For the next 3 years I forgot how the Lord had saved my life! That was until the day a pastor came to our village preaching the Gospel and singing songs about the Lord and His salvation. One song went like this: "Everyone is a sinner and all need salvation from Jesus and we only live by the grace of God." It was then that I remembered Jesus raised me from the dead on that dreadful day three years ago! It was then that I decided to follow Jesus and surrendered myself to Him. Since then many terrorists, communists, rebels have tried to seduce me to follow them in opposition to the government, but by the Grace of God Jesus stopped me! Praise the Lord!
On November 29, 1992 I was baptized in my village. I was the first. When this happened my parents and relatives rejected me. It was about this time that the Lord gave me a Word from His Word. "The Spirit of the Lord is upon me because He has chosen me to bring Good News to the poor. He has sent me to proclaim liberty to the captives and recovery of sight to the blind and to set the captive free." Luke 4:18
I began to preach the gospel in the nearby 20 villages especially to young people with singing and dancing to songs about the Word of God. God enabled me to compose many songs to help the people to understand the Gospel easily. But because my parents and family had rejected me I became very depressed and even desired to kill myself. It was the verse in Luke 4:18 that the Lord used to keep me from hanging myself. Praise the Lord.
The Lord also gave me Matthew 5:14-16 "You are the light of the world. A city that is set on a hill cannot be hidden. Neither does one light a candle and put it under a basket, but put it on a candlestick so that it gives light to all that are in the house. Let your light shine like this before all men, so that they may see your good works and glorify your Father who is in heaven."
With these words of God I was strengthened and comforted. I started to minister the Gospel fulltime in the rural areas. Independently I started social activities providing free tuition to students, adult education, and awareness about superstitions. In 1999 the government recognized me and awarded me because of my singing and the social and spiritual work I was doing from 1992 to 1999. After this many villages invited me to come and minister among their youth. I was able to visit nearly 1000 villages in my Warangal District with my testimony of the Gospel of Jesus Christ in my life. From 1999 to 2009 I covered many more villages and mandals and districts in Telangana. Many recognized me as a Missionary to Telangana. In those days I formed a team of 12 young people to help me preach the Gospel and plant new churches. All 12 of these young men are now fulltime pastors who together have about 5000 disciples of Christ in Telangana! Praise the Lord. From 2009 to 2012 by the grace of God we established more than 200 churches in villages and remote areas. All over Telangana and Andhra Pradesh church leaders were inviting me to come and minister.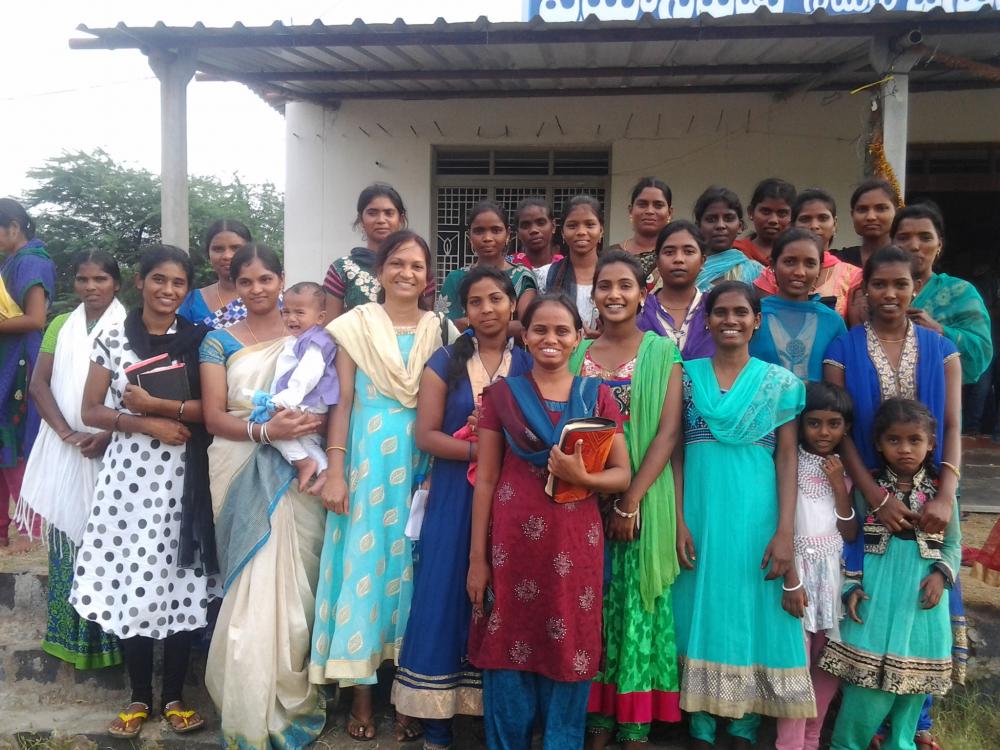 In 2009 another special miracle happened. I was married to Swarna! She was more than I could ever ask for. She was a teacher of the Word, a prayer warrior, a great counselor and an inspiration to young girls and women. She is also talented with puppets and ventriloquism! She says that I too was an answer to her prayers. She rejected her good job and dedicated herself to fulltime ministry with me. We both belonged to poor families and suffered through financial crisis, but by God's grace he provided. Belonging to poor families and suffering a lot through financial crises we could not afford a wedding but God raised up some people to sponsor us and our wedding was a success! That was January 31, 2009. Since then we have been serving the Lord together. For the next 3 years we trained over 24,000 young people singing and preaching and puppets and counseling in Telangana and Andhra Pradesh. We had no formal organization to support us so we struggled much financially but God supported us.
I was focusing on large meetings and crusades and open air campaigns. Most of the time I did not see the results that I was expecting. All the programs depended on me and I became very proud that I was the only one starting these programs. It was about then, in February 2013, that Pastor Steven Prasad and Pastor Ravi Kumar invited me to Visakhapatnam to hear Pastor Jeff Hawkins from Hope Builders Ministries in the USA. In those few meetings I heard many things from the Bible that I did not know. I realized that I was not being as effective as God would have me to be. I especially learned about God's way to make disciples and to win many more people to Christ from the Bible. My mind was really blowing! I realized that the Lord wanted me to change the way I was ministering. From that time I was inspired to "make disciples" God's way. Matthew 29:18-20 and Acts 1:8 came alive in a new way to me. Later when Pastor Jeff was leaving the country Swarna and I met him at the airport for several hours. There he encouraged us in the Word of God and gave me more opportunities to organize disciple making hubs in Telangana. Even our spiritual mother Lou Ann Hawkins encourages us in prayers and talking with us on internet. From that day in 2013 to today we are partnered with Hope Builders making disciples in India.
Since that time we have been able to conduct 225 disciple making training seminars in Telangana and 12 other states in India. We have traveled over 32,000 kilometers (about 20,000 miles) by car, bus, and train teaching 8250 pastors and church leaders in the Disciple Makers Program who in turn have trained over 24,000 others through the 1 on 3 model to the 4th generation. Nearly 1400 NEW churches have been started, 900 of these without buildings.
All praise to the Lord for this opportunity to serve Him with Hope Builders Ministries. Swarna and I have a special desire and vision for disciple making in Telangana. We are asking God for a Disciple Makers training center that will also double as our home and training center and dignity project for needy children and young people. Thank you for praying with us for this vision.
ONE more thing. By God's grace my Mom and Dad were saved and I have baptized many of my family. The village I am from is mostly Christian now. Praise the Lord.
PRABHU-SWARNA
Prabhu and Swarna have one daughter, Shiny, 7 years old.
You can help support the ministry of Prabhu and Swarna by giving a generous gift here. A Training Center will cost $50,000
Monthly support needs are $2000
Thank you!