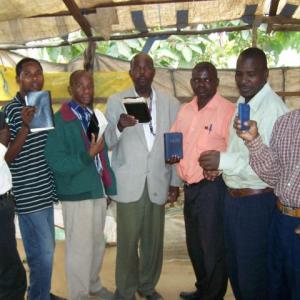 Hope Builders Ministries has given thousands of Study Bibles to pastors training in the 3-year training course. Last year 750 Jeremiah Study Bibles were purchased through your generous support.
It is our prayer that the Lord will provide study Bibles for the pastors and Bibles in the vernacular of the churches we serve.
A Bible in the hands of a trained pastor is vital to the health and growth of God's people. Without the Word of God God's people cannot grow in faith and obedience to His commission. Faith comes by hearing the Word of God. True biblical faith is that which walks in obedience to the Word of God.
Without FAITH it is impossible to please God.
Your generous gift in any amount designated to Bibles for Disciples will help put a Bible into the hands of dedicated men of God used of God to get the Bible INTO THE HEARTS of His people. New believers also receive one Bible per family if they enter the Discipleship program, when available.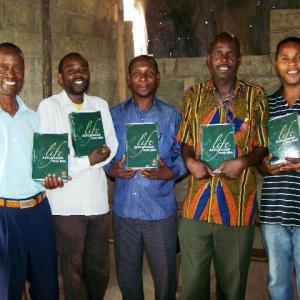 MISSION FACTS:
Churches across Africa, India, China, Asia and South America have gone without Bibles for years. Most missionary organizations, church planting movements and evangelists simply cannot provide Bibles out of their budgets. Even where evangelism and church planting has been done in the most responsible way possible, organizations have been victims of their own success - the number of Bibles needed for new converts is overwhelming.
It seems as if the Churches which have sent the missionaries, supported the evangelists and prayed for lost souls have not realized or been made aware of this huge backlog. Many Christians do not realize the real danger of producing converts and not disciples. Converts are easily "converted" to other religions. In today's world ISLAM is claiming many who were previously considered Christian because of the free schooling and medical care they give if the person "converts" to Islam.
People need the Lord. God's people need His Word. The only possible solution to this crisis is for every believer, and every church, to make a concerted effort to get the Bible into the hands of fellow believers who do not have the means or the opportunity to purchase a Bible. The Bible societies have done a very good job of translation the Bible into local vernacular, but we just cannot keep up without your concerted help.
A Bibles for Disciples Day is a very effective way for your church to make a significant difference in supplying the Word of God to pastors and literate believers in their "heart" language so that they can grow into the disciples God has called all believers to be.
FAITH comes by hearing the Word of God. Romans 10:17
Without faith, it is impossible to please God. Hebrews 11:6
Will you help by sponsoring a Bibles for Disciples Day in your church?
Bibles for Disciples Day
Designate a Bibles for Disciples Day for your church
Schedule a speaker from Hope Builders Ministries OR have your Pastor preach on the importance of Scripture and taking up a Bibles for Disciples offer.
Announce the event for a few Sundays before the event to prepare the congregants to give.
Show a B4D video or powerpoint slides (obtainable from HBM) in the preparation Sunday(s).
On average, it costs $15 to buy and distribute a Bible. The more Bibles purchased at one time the more money saved per Bible. It is not only the cost of the Bible but the delivering of the Bible to the churches that requires coordinating. Africa is 2.25 times larger than the United States. Now remove 95% of the road system you are accustomed to and add $6+ per gallon of fuel and you can understand the costs of getting the Precious Word of God to the rural believers in Africa.
We need your help!
PRAY
Pray regularly for Bibles for Disciples, suffering Christians and those too poor to buy their own Bible. Pray for church planters, missionaries, and evangelists as they win souls for Christ. Pray for the mentors and leaders who disciple new believers. Contact us to receive a regular newsletter.
GIVE
​Your gift will make a difference in the lives of brothers and sisters in Christ. Bibles for Disciples will use your gift to purchase and deliver Bibles into the hands of needy Christians.
Monthly gifts: Regular giving enables us to better plan so we may order sufficient stock. Your monthly gift will help many converts become disciples. You can donate here.
ORGANIZE
Organize a Bibles for Disciples Day in your Church. The Pastor can preach a message on the sufficiency of the Scriptures to equip and mature the believer. A love offering can be taken on the designated Sunday. Sunday School classes and Bible Study groups can take a regular offering as well.
Contact us if you can help organize a Bibles for Disciples Day.
SHARE
Bibles for Disciples needs volunteer representatives in every community.
​Contact us if you would consider this mission opportunity.
---
---
ZAMBIA MAP